Hip hip hooray we had Columbus day off from school. I am pretty sure most of us were taught the same thing about Mr. Columbus... had 3 ships, made several voyages, discovered new land all good. Well apparently some people were taught something different. Apparently he was BAD, a murder, a thief etc... I can't believe this is so. So I am going to do a little research to find out the true story of Christopher Columbus, if there is one out there.
Since my daughters and I didn't have school E has been asking to go visit her old kindergarten teacher whom everyone from now on will have to live up to =) Last year I had her at a different school and they didn't get the day off. I didn't have much planned for this day so I packed us up and off to visiting we went. E's teacher didn't get a conference time until 12;30. We were very anxious to get this done (I mean have this nice visit) and was at the school by 11:40 so we had some time to kill. I saw this art project for fall
here
and decided that the college would be good for leaf findings. This is the only place that I know of around here that has trees that have nice red/yellow/orange leaves. Since we do live in Texas most of our leaves or brown or green. (so if your a nice northern person and so kindly find it in your heart to mail us some of your nice pretty color fall leaves I have 2 children who would love you forever ;) I decided to throw everybody for a loop and turn left instead of right.. Much to the dismay of E who insisted it was time to visit! We decided to go on a exploration of the campus ground (even though the mud since we FINALLY got RAIN) and came upon many cool things. One thing was noticeable. The grounds man really keeps the ground free of leaves. ;( not a leaf around. (that was worthwhile) We had a great visit at the college, saw the turtles, looked for the monarchs, found new trial beds, talked with the grounds keeper about plants that like to eat bugs and found where the fairies live when they don't visit the nice homes kids make for them. We also had a nice visit with E's Kinder teacher and afterwards made a stop at my grandparents for some more fun. Here are some pics of our Columbus Day fun.
exploring the college
can you explore without stepping in the mud??
Katelyn talking to the fairies
Look at the fairy village!
K checking out the turtles
E deciding what was planted where
We have a fascination for the fuzzy plant whatever it is
Cantaloupe.. K wanted to know why they were't big like in the store.
There was a surprise at pawpaw and mawmaw's when we got there. The girls
named her Tiny.. She is a stray and followed the girls next door home. She is sooo sweet.
The more that I look at her she looks like a mix between
a terrier, chihuahua, and a dachshund she kinda looks like this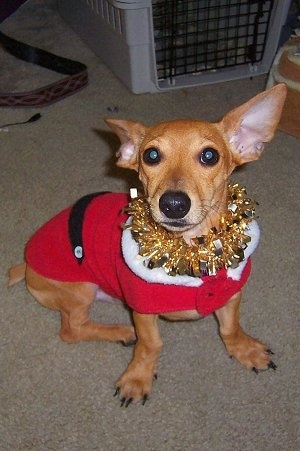 This is a Toy Rat Doxie a mix of the above without the chihuahua . They are AKC recognized.